You will feel nothing as your pain melts away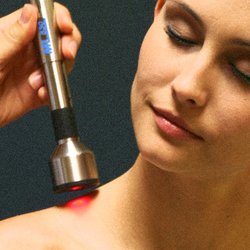 830Laser Therapy – The cold laser is the newest innovation in healing for conditions ranging from arthritis to disc and nerve pain such as sciatica.
This treatment does NOT wear off like most medicines, electrical stimulation, heat or ice. It increases your body's own healing power. If you don't re-injure the area, the pain should not return.
It successfully treats most muscle, joint, tendon, and nerve pain associated with
Arthritis,
Back Pain,
Bursitis/Tendonitis,
Carpal Tunnel Syndrome,
Fibromyalgia,
Heel Spur/Plantar Fascitis,
Migraines,
Osteoarthritis,
TMJ, and more.  It's even safe on children!
There are many options available for pain relief today that merely address the painful symptoms and not the root cause. Quick fix options and procedures may appear good initially but are often temporary or even dangerous. In some cases, side-effects occur that make your condition worse or lead to new problems that weren't even there in the first place.
Jesse Elliott, DPT, Licensed Doctor of Physical Therapy with Siskiyou PT
We offer Same Day Appointments for those that are post surgical or medically urgent. We offer discounts or payment plans for those that have high insurance deductible health plans, no insurance or have a financial hardship.
Call now to get your life back 541-479-6936 or visit SiskiyouPT.com
If you like this post or have a question.  Comment below.